GLASS WORKING SUPPLIES & EQUIPMENT
1-800-821-8866
52 MM Litton Scroll Chuck

Chuck model numbers for the various lathes are listed below. The chucks should be purchased with handwheel rotation to closure that corresponds to the rotation of the spindle. If a spindle rotates clockwise, it requires the counter-clockwise chuck.
If it rotates counter-clockwise, it requires the clockwise chuck. The handwheel rotation relationship is denoted by 'C' for clockwise to close and 'CC' for counter-clockwise to close.

Part Information:

Part No: 97141-02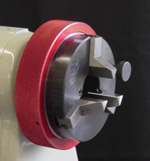 Litton 52 MM Scroll Chuck
The Scroll Chuck offers a high degree of accuracy and a strong positive grip.
Adjustment is by means of the handwheel. A knurled thumb screw locks the
grip on the work.

Chuck model numbers for the various lathes are listed below. The chucks should
be purchased with handwheel rotation to closure that corresponds to the rotation
of the spindle. If a spindle rotates clockwise, it requires the counter-clockwise chuck.
If it rotates counter-clockwise, it requires the clockwise chuck.
The handwheel rotation relationship is denoted by 'C' for clockwise to close and
'CC' for counter-clockwise to close.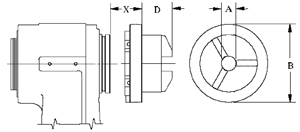 Description
A= Bore Diameter of Chuck
B= Outer diameter of faceplate
C= Diameter of chuck base
D= Length of chuck with jaws closed
X= The distance from end of the spindle to the face of the faceplate
52MM Chuck Part Numbers and Specifications
Lathe model
U
HA
HJ/EJ
EE
CW Chuck
97141-02
97141-03
97141-04
97141-05
CCW Chuck
97142-02
97142-03
97142-04
97142-05
A
52mm
52mm
52mm
52mm
2"
2"
2"
2"
B
184mm
184mm
184mm
184mm
7-1/4"
7-1/4"
7-1/4"
7-1/4"
D
38mm
38mm
38mm
38mm
1-1/2"
1-1/2"
1-1/2"
1-1/2"
X
57mm
61mm
57mm
56mm
2-1/4"
2-3/8"
2-1/4"
2-3/16"
Faceplate Mounting Screws and Wrenches
Lathe Model
F
U
HA
HJ/EJ
EE
EA.K
Mtg. Screw
7146
7148
7147
7147
7145
7145
Wrench
5045-187
52045-187
52045-187
52045-187
52045-250
52045-250